Ask Osleriana
Electronic Documents Archives
Created by Alexander D. Jones & H. Michael Jones, MD. A labor of love begun in 2006 & nursed to its feet by financial aid from Frank Neelon, MD & Duke University. Entrusted to the American Osler Society.
Searching the AskOsleriana Database
Researchers are limited to searching, downloading and printing. They are restricted from altering, removing or adding documents to the database.
Platform
Our database is maintained by Dokmee, a commercial vendor. You will see their branding on the search site.
Searching
After clicking on "Go To the Database", enter the username and password. This will take you to a "dashboard" illustrated below.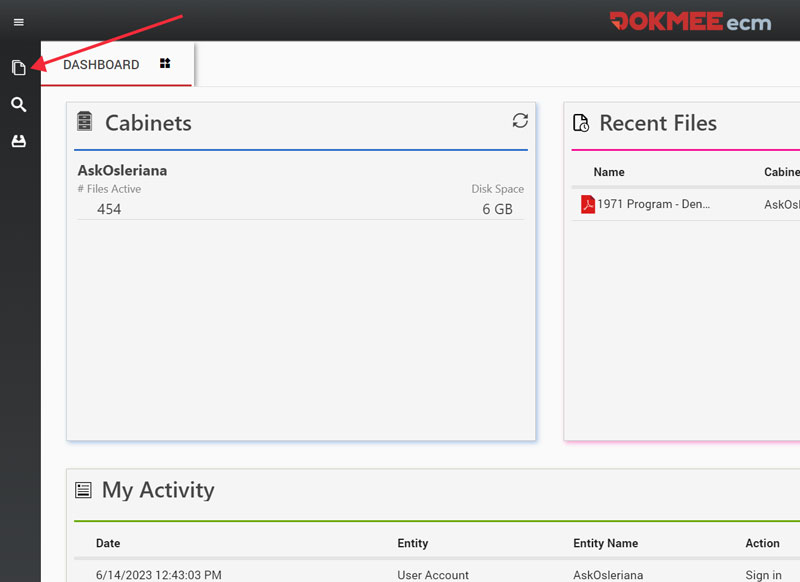 On the left side of the dashboard, click on the "files" icon (red arrow). That will take you to the files page where you can begin your search. Please see Search Guide for Searching the AskOsleriana Database below.
Returned documents may be reviewed in the application, printed or downloaded. There is no limit to the number of files you may review. Large files may take a while to load in the file viewer, so be patient when examining documents.
The searches include all fields, full-text within documents (Word, PDF, text, PowerPoint) and filenames. The search will not return text within image files (jpg, tiff, png, etc) or any words other than the filenames in audio files.
Search Guide (PDF)